Digital X-Ray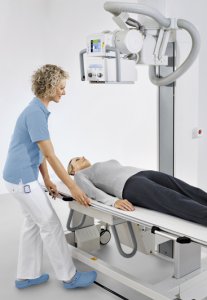 As the oldest imaging procedure in medicine, the X-ray examination has a very long tradition. Despite all the advancement of other techniques, it still plays a major role in radiology.
Its principle is based on the attenuation of the X-rays, which depending on the thickness and density of the irradiated objects are registered differently.
Thanks to the technical development, the radiation exposure has been significantly reduced in recent decades. Here, we use X-ray machines with computer-assisted settings and digital image storage.
The method is suitable for imaging the bones and the adjacent soft tissues, the lungs, and the breast (mammography).
Since the conventional X-ray can hardly go beyond limited statements about organ structures such as liver, muscles or brain, we usually apply other procedures for this purpose.
No special preparation is necessary.