Nuclear Medicine (scintigraphy)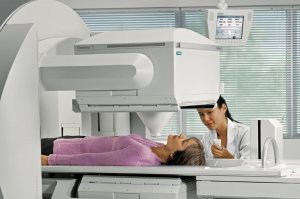 For scintigraphy, a short-lived radioactive isotope (usually technetium 99m with a physical half-life of 6 hours) is coupled to a test substance depending on the organ to be examined allowing a targeted display of metabolic processes or organ functions in the body.
Our range of services in nuclear medicine includes the scintigraphy of:
Thyroid
Parathyroid
Heart
Kidneys
Sentinel lymph node
Palliative Pain Management with Samarium-153
How is the examination performed?
To start, a test substance prepared that same day and labeled as radioactive is injected into an arm vein. Depending on the organ to be displayed, a special camera following predefined time intervals is positioned above the body region in question to record the gamma radiation of the test substance. Based on this record, computer-based images are calculated to allow answering the question.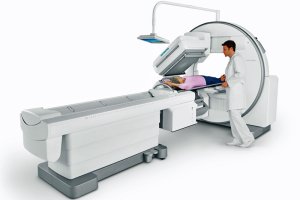 In addition, sectional images (SPECT images) can be created to improve the assignment of the image information obtained. The gamma camera heads rotate around the body without contact.