Sonography (ultrasound)
By using ultrasound, organs such as the neck, abdomen, or superficial structures can be examined.
As a common component of extended clinical examination, the ultrasound examination is the most frequently used imaging procedure in Germany. It is based on the use of sound waves in a frequency range imperceptible to the human ear. Unlike other cross-sectional imaging techniques, it is not subject to any restrictions in use. In addition, morphological and functional questions can be answered in real time.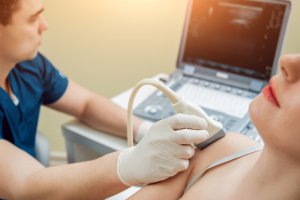 How does sonography work?
Sonography uses a transducer that emits ultrasound waves ranging from 1 to 20 MHz in medical diagnostic applications. Depending on the type of tissue, these are absorbed or reflected differently in the patient's body. The transducer alternately serves as sound transmitter and receiver.
Computer-based images calculated based on the sound waves reflected give a spatial idea of the size, shape and structure of the body regions examined.
Color-coded Doppler sonography provides additional information about the flow of blood in vessels and organs.